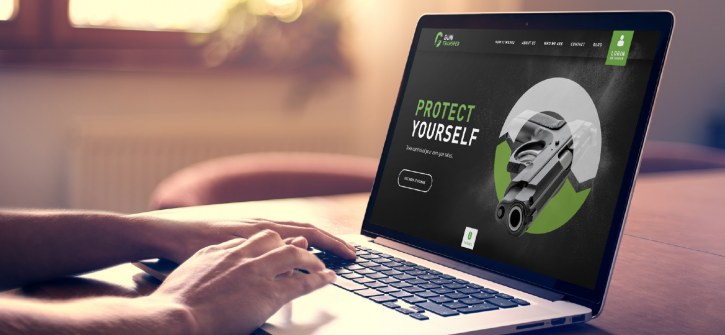 Here's our most frequently asked questions (FAQ's).  If you don't find the answers to your questions here, please contact us anytime through our contact form or give us a call.
What is Gun Transfer?
An online transfer service for the used gun market. It only takes 3 easy steps to change ownership of your firearm. Gun Transfer protects the firearm seller and buyer. It's the easiest and most responsible way to transfer a used firearm.
How does it work?
It only takes 3 easy steps to complete a gun transfer. First, you enter basic information on the gun. Second, we verify both parties in the transaction can legally buy or sell the firearm. Third, we provide a legal contract with the ability to sign digitally sign from any device.
What do you verify?
We check the buyer and seller on every transaction and verify that they're eligible to transfer the firearm. This includes an identity check, a residency check, and an eligibility confirmation. If the Full Gun Transfer was purchased, we also complete a background check on the buyer that includes a detailed search of federal, state, and county records including sex offender lists and other records that would disqualify them from owning a gun.
What is an eligibility confirmation?
The buyer and the seller must acknowledge that they have not committed a disqualifying crime and they are of legal age to conduct the transfer. These rules change based on Federal, State, and Local laws. Gun Transfer helps each person comply with his or her specific rules.
What information do you need from me to conduct the verifications?
We need your full name, address, and birthday to conduct our verifications. In version 1 we also need your Social Security Number; which will be optional in version 2. To create your account, we'll also need an email address and password.
Why do you need my Social Security Number?
Your SSN is the best way to ensure we're verifying you and not someone with your same name. We never store your SSN on our system. We're working on an update that will make the SSN optional but recommended for people with common names for accuracy.
Do you keep a list of my guns?
No. We do not keep or want a record of your guns. Keeping records of your transfers is critical to protect you from future liability. Similar to how all medical and financial records are moving to the cloud, we believe the easiest and most secure way to store sensitive information is in the cloud. Gun Transfer provides a lifetime digital record of all your transfers for easy and secure access. In version 2 you'll be able to permanently delete these records if you desire.
Can the government get access to my records?
No. Gun Transfer is not a Federal Firearm Licensee (FFL) nor are we required to report gun transactions to the ATF or any other government entity. If they are investigating a specific transaction, they can obtain a warrant to either search your residence or request the data from Gun Transfer.
Are my records safe from hackers?
Yes. As gun advocates and conspiracy theorists, security is our top concern. Several laws regulate sensitive Personally Identifiable Information or SPII. The Fair Credit Reporting Act (FCRA) and PCI Data Security Standards (PCI DSS) outline requirements on how we can store, process, and transmit sensitive information. Gun Transfer's security standards go above and beyond the requirements by segmenting the data and using some of the best firewalls and encryption available.
What does Gun Transfer do with my data?
Your data is only used to conduct a gun transfer. In fact, we lock down your data so tight that we can't access it internally. While this can occasionally cause customer service challenges, we feel that your security is the top priority.
We've partnered with some of the most respected data providers to run verifications, background checks, and process payments. Our partners are committed to the highest security standards and are trusted by companies like Under Armor, Adidas, Experian, and OpenTable.
How can Gun Transfer fight gun control?
There are 2 major ways we fight gun control: we prevent additional legislation, and protect the 2nd Amendment.
Everyone's heard the best defense is a good offense. Gun Transfer is a pro-gun solution that supports responsible firearm transfers. It answers the concern liberals call the "Gun Show Loophole" and offers verifications and background checks in compliance with gun laws. With a pro-gun solution in place, lobbyists can convince politicians that we have a good solution and additional legislation is not necessary.
Only 40% of gun all gun sales are used guns. At first glance that may seem good, however, compared to other used markets it's very low. Used vehicles are 70% of the market. Gun control has suppressed the used gun market to a fraction of what they should be, infringing upon our 2nd Amendment rights. Gun Transfer makes it easy to navigate the laws and legally buy or sell a used gun, increasing the size and health of the used gun market and protecting the 2nd Amendment.
How much does a transfer cost?
A Basic Gun Transfer is $15 or 3 for $30. A Full Gun Transfer is $25 or 3 for $60.
What's included with a Basic Gun Transfer?
The Basic Gun Transfer includes all the verifications necessary to conduct legal firearm transfers in 42 states (Identity verification, state residency check, and gun eligibility confirmation), plus an electronic bill of sale with a lifetime digital record.
What's included with a Full Gun Transfer?
The Full Gun Transfer includes everything in the Basic Gun Transfer plus a complete background search on the buyer.
Can I use Gun Transfer to transfer Class III NFA Weapons/Title II Firearms?
No. Machineguns, short barreled rifles (SBRs), short barreled shotguns (SBSs), suppressors, any other weapons (AOWs), and destructive devices are not allowed on Gun Transfer. Transferring a Class III NFA Weapon/Title II Firearm requires approval from the ATF. For individuals/private parties, this process usually takes 3 to 4 months.
Can I use Gun Transfer for out of state firearm transfers?
No. Gun Transfer is intended for firearm transfer between 2 private parties residing in the same state. If you are transferring a gun to someone who does not live in your state, you must use an FFL (Federal Firearm Licensee).
Gun Transfer is working on a product where we can legally transfer guns over state lines through our system. Stay tuned for product updates!!
What States is Gun Transfer legal in?
Gun Transfer can be used in 42 States. While every State has different gun laws, our system will help you navigate the firearm laws in your state. Take a look at the list below to help you identify if Gun Transfer can be used in your State.
States where Gun Transfer can be used for Rifles, Shotguns, and Handguns:
Alabama
Alaska
Arizona
Arkansas
Florida
Georgia
Hawaii
Idaho
Illinois
Indiana
Iowa
Kansas
Kentucky
Louisiana
Massachusetts
Michigan
Minnesota
Mississippi
Missouri
Montana
Nebraska
Nevada
New Hampshire
New Jersey
New Mexico
North Carolina
North Dakota
Ohio
Oklahoma
South Carolina
South Dakota
Tennessee
Texas
Utah
Vermont
Virginia
West Virginia
Wisconsin
Wyoming
States where Gun Transfer can be used for Rifles and Shotguns only:
Maine
Maryland
Pennsylvania
States not supported by Gun Transfer:
California
Colorado
Connecticut
Delaware
New York
Oregon
Rhode Island
Washington
Washington DC
Back to All Posts